I purchased Pottery Barn's largest dining room table about eight years ago. I was just beginning to cook a lot, and I was hosting many dinners for friends and family. I don't remember the dimensions, but I do remember that the folks at Pottery Barn made me measure my room twice to make sure the table would fit...apparently that model was returned A LOT.
When I began my business a year ago, I needed
SPACE
! My house is small...I have a garage, but in New Jersey, there is only a small window of time when one can work in a little room with no heat or air-conditioning...and besides, I was storing all of my unfinished furniture in the garage. In addition, I was beginning to collect interesting pieces for my home as well as my shop, and my rooms were getting more crowded...not less....I was becoming desperate for work space.
In the spring of last year, I found myself in front of my beloved dining room table, eying the 12 x 12 room which was only used about three times per year. I was moving toward the unthinkable decision...I was going to sell my dining room table. It sold on Craigslist in one week for $700....half the price I paid for it.
I immediately sunk the money into my fledgling business, and began to set up my workspace. Chippy and vintage cabinets were purchased, a much-coveted library card cabinet was run down (I followed the dealer to a flea market & grabbed it), furniture was moved from other rooms in the house...and I finally created a couple of "inspiration boards". I fell in love with my new studio, and arranged my materials and tools in a way which pleased my newly creative eye. When I found a complete set of vintage seltzer bottles in their wooden caddy, I sold the bottles, and kept the caddy, sanding it down to a buttery smooth finish, and arranging scissors, pens, rulers, etc. in its divided openings. A salvaged drawer holds business cards, stamps, and notepads. The library card cabinet hides spools of thread, bits of lace, and other small items. When I saw a large, picnic-style table with a matching bench at an estate sale, I left a low bid...then fretted and worried all day that I would lose it. I got it...and had to take it apart at the sale to get it in my car. I sanded it and waxed it but DID NOT paint it...very unusual for me. I get a thrill every time I run my hand across its soft, satiny finish....working on it is sheer pleasure.
I have been fortunate enough to create a space that I love to use. It is still evolving...but here's what it looks like today:
I am linking up to: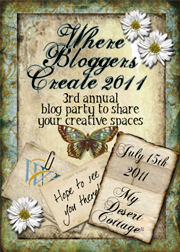 My Desert Cottage
I can't wait to see all the studio spaces from the very talented women in blog-world. Thanks for looking at my pictures, and if you're linked to "Where Bloggers Create"...I can't wait to see your space as well!!
Mona Kay